About Journal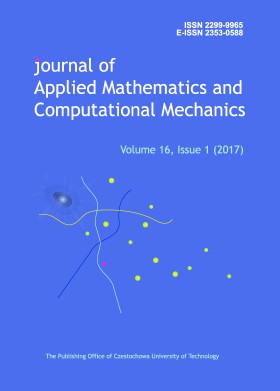 Journal of Applied Mathematics and Computational Mechanics
(abbr.: J. Appl. Math. Comput. Mech., JAMCM)
is the scientific journal published quarterly by
"The Publishing Office of Czestochowa University of Technology".
p-ISSN 2299-9965 (print)
e-ISSN 2353-0588 (online)
The Journal was formerly known as Scientific Research of the Institute of Mathematics and Computer Science since 2002 - ISSN 1731-5417.
JAMCM is Open Access Journal. Papers are available for non-commercial use under the Creative Commons Attribution-NonCommercial-NoDerivs 3.0 (CC BY-NC-ND 3.0) license. All articles published in JAMCM are permanently free for everyone to read and download. All reviewed accepted articles are published free of charge.
The journal is on the list of scientific journals of the Polish Ministry of Science and Higher Education.
Presently (since 2015) each paper is awarded with 10 points (the list B, pos. 744).
In the previous years: 6 points (2014-2013), 5 points (2012), 6 points (2010-2011), 4 points (2007-2009).
We are indexed in the databases: